Well hasnít that been a long time coming. Too long I know but at the same time itís difficult to communicate how much time and effort that is involved in embarking on a project like this, especially starting with little subject matter knowledge and no technical engineering experience what so ever. Under these circumstances there is quite a leap of faith involved, and this being testedÖ repeatedly.
While stumbling initially I was fortunate to meet and work with some really decent people as a direct of result of some of my misfortune. Most, I imagine will remain friends for long time well after this car is gone from my possession. If there is one thing this life has taught me is that as one door shuts in your face, a window is opened so always be prepared.
As you can see the GT arrived safe and sound on the back of truck to my door. This wasnít organized or funded by me but by Spiro and his team at Autotech Engineering. The WASSP arrived clean and polished like how I sent it there many years ago. There was some minor evidence of wear in places but overall I was pleasantly surprised at its general condition considering the timeframe. Autotech said they continued to regularly service and maintain the vehicle while in their care and they certainly kept their word. More so, at no point where any of these maintenance costs passed on to me.
Seeing the WASSP being backed off the truck was a bit of an event. Both my teenage daughters came home from school early to see Ďtheir GTí again and there were a few tears. The builders just down the road where some homes were being constructed also stopped work to see what all the fuss was about. Keep in mind guys that we live a quiet picturesque neighborhood in the Adelaide Hills. If someone starts up an old school muscle car, or Harley within a kilometre or two you know about it.
Hearing the car start for the first time and be backed off the truck was interesting. Not what I expected but in a good way. Extremely deep is a word that comes to mind. As in.. chest rattling deep, but not Ďthatí loud..somehow. This was the brief when building the mufflers and adding the packing materials designed for more considerate street use. I guess I didnít actually expect the result to be so successful.
One area I had forgotten about was how much mechanical noise the engine and accessories produce. Blower whine, whirring belts, intake whistling and header collector noises all colliding and operating in harmony. When idling, the front end of the car is louder than the exhaust. When driving you can do so without drone or the exhaust erupting. At least while gentle with the throttle. Kick it if you dare, of which of course I didÖ.just a little to remind myself what was lurking beneath.
The truck driver was extremely careful and had many questions for me once the car was safely parked in our driveway. Me being me, all I could focus on was the ride height which had to be raised to meet transported clearances. Horrified at first, truth be known it doesnít bother me half as much as I thought it would after driving it for a few days. It certainly makes driving less stressful when negotiating bumps, dips, gutters and driveways.
A later drive up through the Adelaide hills confirmed the higher travel height had no ill effect on the cars handing and ride characteristics. In fact I was shocked at how good it was, and how incredibility confidence inspiring it was to drive through the hills. To emphasis this, a few months ago I had the privilege of driving a chipped Porsche Boxster Cayman S with a 911 wheels/suspension upgrades up the same stretch of road. I can honestly say the WASSP felt easier to drive fast. WTF?
Car balance was simply outstanding for such a nose heavy car with no body roll or pitch what so ever. Braking from the huge PBRís was brilliant compared to what Iím typically used to. Only a mischievous right foot was going to get me unstuck.
That said, driving it is taking some getting used to. Iíve not driven too many manuals since the GT left and this one isnít exactly easy to manage. The clutch is quite heavy, gear box notchy and Iím struggle to get a feel for where the take off point is. This has resulted in some embarrassing stalling and bunny hopping incidents, particularly from the lights and with 1-2 gear changes. Keep in mind this all happens when Iím trying to drive the car sedately, which it does much better than before but still doesnít like, and Iím not good at doing it either. My wifeís auto Fiesta would seriously own me off the line in this thing so I desperately need some practice. Hopefully just the sound of this car will scare most of the boy racers away. Fingers crossed.
Power? Iíve poked the bear a few time very briefly. Itís incredible how fast the revs rise and the rear tyres become overwhelmed due to traction control not being able to respond fast enough. A combination of 3.7 gears and mountain of torque wave from just off idle helps. The failing 285 Dunlops are helping to reduce some the drivetrain shock and no I havenít turned traction control off as yet. Iím not that silly, nor experienced enough at this point but that time will come in more appropriate conditions were less things can go wrong and I have gripper tyres. For now the performance on the street with safety systems enabled leave me wanting for nothing more than to master what I have.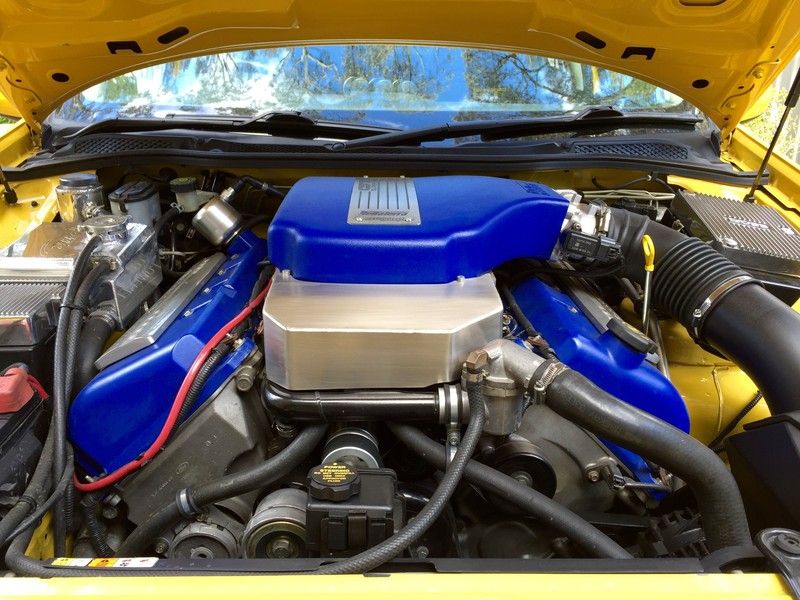 Things I need to do next is get the suspension geometry reset and make a decision on the ride height. I had the car booked today to do these things but I am yet to locate the Tein C spanners which came with the kit to make the appropriate adjustments. There are still a few minor bugs in the tune needing sorting which makes it difficult to start sometimes and the revs drop on occasion. It can get a bit fumie as well but Iím not sure there is much I can do about that.
After this I need to locate a new front bar under tray and replace/fix a few items that have become worn over time (Centre console around gear sector scratched), new front fender indicators (plastic gone cloudy) and driver seat bolster material which has started to become saggy. I tend to forget this car is almost 10 years old (late 2005). Itís only done 28,500 kms.
From there things like paint touch ups and a sun roof maybe on the cards but weíll see. Iím also toying with the idea of putting the stock wheels back on it but with new grippy rubber (Nittoís).
I wish to thank Spiro, Joe and Gina from Autotech for all their support, Matt from Yella Terra and to everyone on this forum, friends and even the knockers that has been following this saga. Without all of you this day would not have come.
Colville