The 2015/16 FG X XR8 is a special car in most Australian Ford enthusiasts minds. It's the hero car of the FG X range and it is largely so because of what is under the skin. This is a GT by another name and not just any GT but the Rspec version.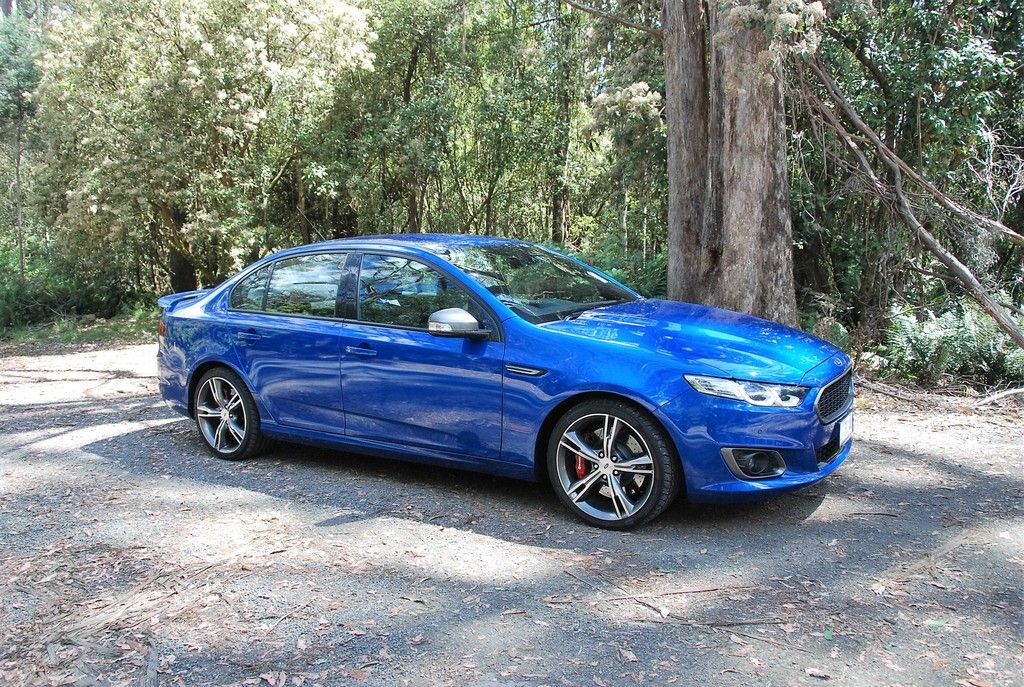 The term Rspec refers to the suspension fitted which first saw service in the limited edition Rspec GT before being the suspension of choice for the last GT in the GTF. An Rspec GT still holds the *quickest media time recorded over the quarter mile for a Falcon and with this engine tune too.
This is a very formidable package on paper and that turns to compelling when you take into account the price. More on that later.
You don't need to travel very far to realise this isn't a normal Falcon. This is the Rspec suspension at work which features stiffer upper control arm bushes, stiffer upper strut mounts and retuned dampers at the front, with the rear gaining higher spring rates, retuned dampers, a larger anti-roll bar and reinforced lower control arms. The rear also gains a 9-inch wide wheel package shod with 275/35 R19 tyres with revised toe-link settings.
This is something you feel all the time. It's firm without being harsh but one could be forgiven for thinking on the roughest surfaces the ride quality would suffer. It doesn't as I was to find out on what would be regarded as a very poor surface on the Old Pipers River road. Such a surface revealed a sophistication to the settings that prevented the ride from deteriorating at all. The primary ride is always firm but the level of control it brings over say a normal GT, is definitely worth the investment.
As a GT owner myself, I can feel one issue that has been addressed, is the front end float, the lack of rebound that can see the front "bounce" just a bit more than you would like on the control scale. The route chosen on the day took in arguably one of the State's best stretches of road called the Sidling. This is a proper road for the enthusiast amongst us revealing this Falcon was up to the challenge. Grip afforded by the Dunlop Sport Max never saw this driver regretting road selection.
Excellent feel and feedback via both steering and brakes up front inspire confidence by not providing a sense of isolation between road and car. You do feel connected with the road and that's the way it should be.
In fact the only thing that mechanically sets this XR8 apart from the hero GTF is the brakes on the later are a combination 6/4 Brembo package. That's how much car you get with the FG X XR8.
The engine in this car is called the Miami which is a relative of the Coyote engine fitted to the Mustang on sale now in this country.
The Miami is hand built in Geelong and contains a lot of local know how and content. You can see the engine builders initials etched into part of the block facing the front of the car along with its build number out of that engine plant. There is a bit of pride on the line here and in my opinion it is the best V8 you can buy in this type of car on the market today.
It has technology and it has muscle thanks to the supercharger sitting in the V valley courtesy of Harrop. It is uniquely Australian this engine and has a number of party tricks up its sleeve. First released to the public in late 2010, it pretty much immediately started showing dyno results that suggested the claimed 335 kws was conservative. In 2014 at the GTF launch, Ford finally came clean and explained how this was so. The car comes with a feature called **transient over boost. When certain conditions are met the engine produces power in excesses of 10% over what is claimed as a badge number. The reason the lower number is advertised is because it's the number Ford guarantees the engine will do in all circumstances. When the engine sees a gear greater than 1st is selected, that the intake temperature is within a specific range and the engine revs are above 3500, the number being produced is somewhere north of 360 kws. Like the GTF the exact number of this feature isn't known or acknowledged by Ford because it is variable based on conditions but it's nice to know that you are getting something extra that adds to the mystery of the car much like the GTHO did with its claim back in the day.
This is achieved with very little penalty in fuel consumption. Thanks to the clever use of electronics, the supercharger is driven by demand and effectively idles when not required. The fuel consumption on test returned a remarkable 13.3 litres per 100kms measured by the cars onboard computer. My experience with these systems is sufficient for me to say it is close enough to what you would find at the fuel station.
Let me put this into perspective for you. This car had just under 2000km on it when I picked it up. These engines don't start to get into their prime until about 10000kms. Never at any stage was the car driven for economy. One person, air conditioning on, often left idling to take pictures, all on roads not known as economy runs. Not that it should be a real issue to potential owners but I think it's important to realise that if you want a V8, this product offered by Ford is world class in every respect including consumption.
It's response and smoothness is unmatched in a car of this value.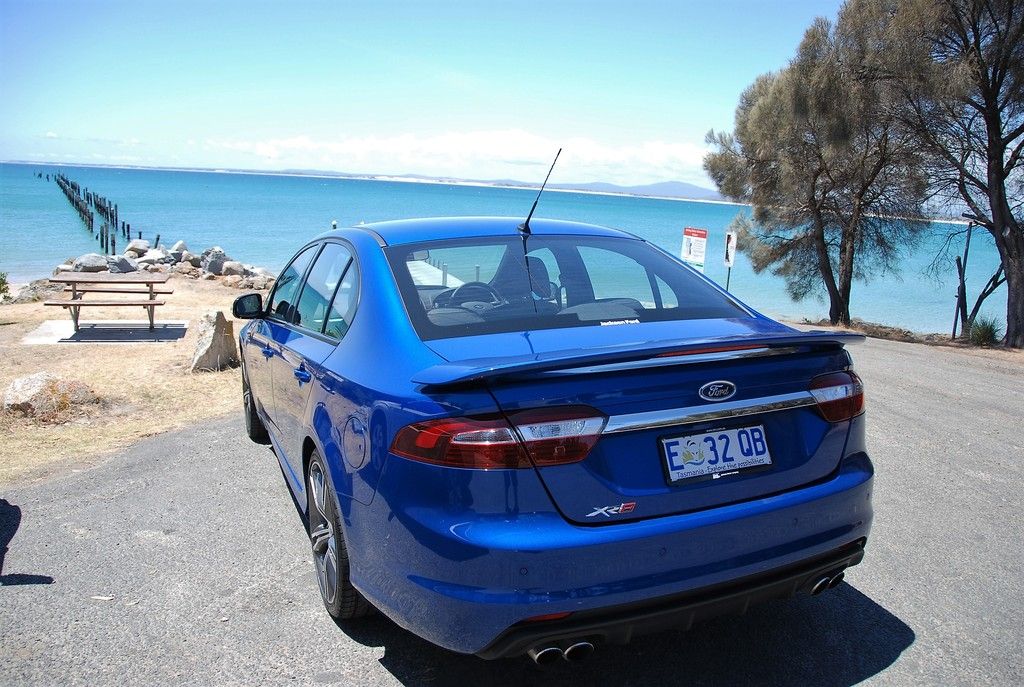 The car on test was the efficiently smooth automatic version, a German made ZF 6 speed transmission; it is brilliant, there is no other word for it. It's smart when you want it to be and has control when you want to take charge yourself via the sports shift. This is a package you want to drive. It makes you feel like you have something special under you and there is just a hint of old school about the way it goes about its job with the exhaust note from the quad pipes. A bimodal system that is vacuum operated to give enhanced noise as the revs rise.
Rounding out the mechanical specifics is launch control.
Moving on to the package that is FG X, you quickly realise this is the most comprehensively equipped Ford V8 ever. Yes that includes the FPVs as well.
FG X is the first Falcon to include day time running lights that are incorporated into the front headlights in an attractive design resembling the signature XR headlights of past models. None of that afterthought design we see on so many cars today. A closer inspection of the main beams also reveals the embedded XR signature. Nice touch Ford!
Together with its global Ford design language grill, it's an imposing front to whiteness. That front also incorporates front parking sensors; another Falcon first.
The bonnet bulge is simply to die for from inside the car. From certain angles outside its deceptive but from inside it's a constant reminder of the significance of this car. This feature is exclusive to this model of car which is unlike previous versions that were shared across a greater V8 line up. I approve. I think it's the best version of the three generations from the driver's seat.
Speaking of which, the XR8 comes with full leather trim on those sports seats pictured. We have a bit of an inlay going on in the sides, mimics the inlay in the dash spears, combining with a black headlining, all first for a V8 Falcon of this generation.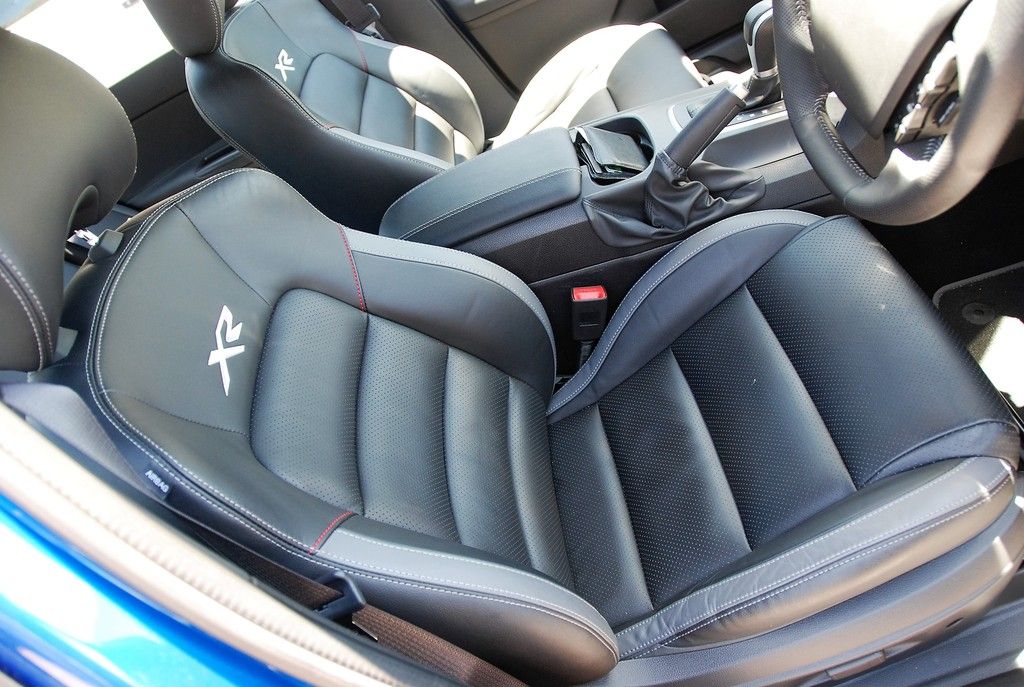 These days it seems like it's frowned upon to drive constantly for hours on end but when the living quarters are this good it's easy to see the fatigue reminder alert come up.
Sitting in the driver's seat the centre touch screen dominates. Did you know you can customise the wallpaper (backing graphic)? Well you can! Very cool. Think FaceBook cover photo material that goes a long way to personalising the presentation you see on the move.
I recently reviewed the new Mondeo that comes with the same screen and have to admit to being a bit frustrated with it.
If you are used to the touch screen in FG2 you will find you have to press firmly with this new Sync2 system. It's in part due to the change in type of screen and in part a deliberate attempt to reduce errant activation.
It can however be a bit frustrating and make you think it's unresponsive. Not to fear because in another first for Falcon it gains voice activation. I know what you are thinking. But does it work?
Most of the time it does and if you learn the acceptable phrases the acceptance rate approaches 100%.
I like technology that works and having your hands on the steering wheel is always the best outcome as a result.
The screen is divided into quarters: phone, navigation, climate and entertainment. This allows you to see info on each section while on the home screen. Even if navigation isn't active, it displays what street you are on.
I tested phone paring with a Lumia 1020 and played music through Bluetooth. I found it to be better than my FG2 with seemingly more control. Don't forget to have your phone volume on Bluetooth to maximum or you might think you have a car volume issue.
I absolutely loved voice activation of the climate control. When you select this section you are confronted with touch screen options for the system. It looks modern but in truth you would use the hard buttons below in most cases. A press of the steering wheel voice prompt button had me changing temperature, air distribution to face, aircon off, faultlessly. If you are feeling a little uncomfortable you can literally tell the car to change the temperature, ask to navigate somewhere, play a certain song or call a friend to tell them how much you just love this car.
Thankfully it didn't rain on the day but the Xr8 now has rain sensing wipers as well.
Standard is a reverse camera but unlike the previous generation it now includes guidance lines that predict based off steering input where you are heading.
So much more in FGX than what I was expecting.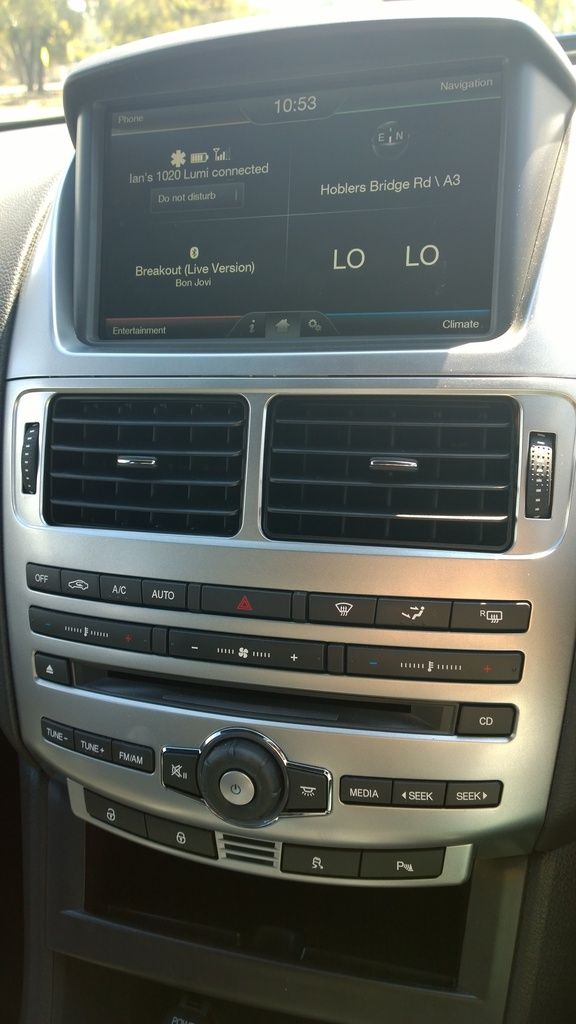 I guess none of this matters if there isn't value attached to the product and to this reviewer that is what makes this particular model a stand out.
At the time of writing Ford have confirmed a limited edition model called the XR8 Sprint. We all know what that means. If we learnt anything from the GTF experience, prices are about to go up. That's if you can find one, as they will probably be hard to obtain which makes the current XR8 even more compelling and a dead set bargain.
That's the beauty about the situation we have now at JMC. In hand right now are three fine examples of this product. One in Smoke (metallic grey), White and Kinetic (metallic blue as pictured)
When I was told the price of this car I was blown away. That the car is so good and at this price I would ask people to consider the following perspective.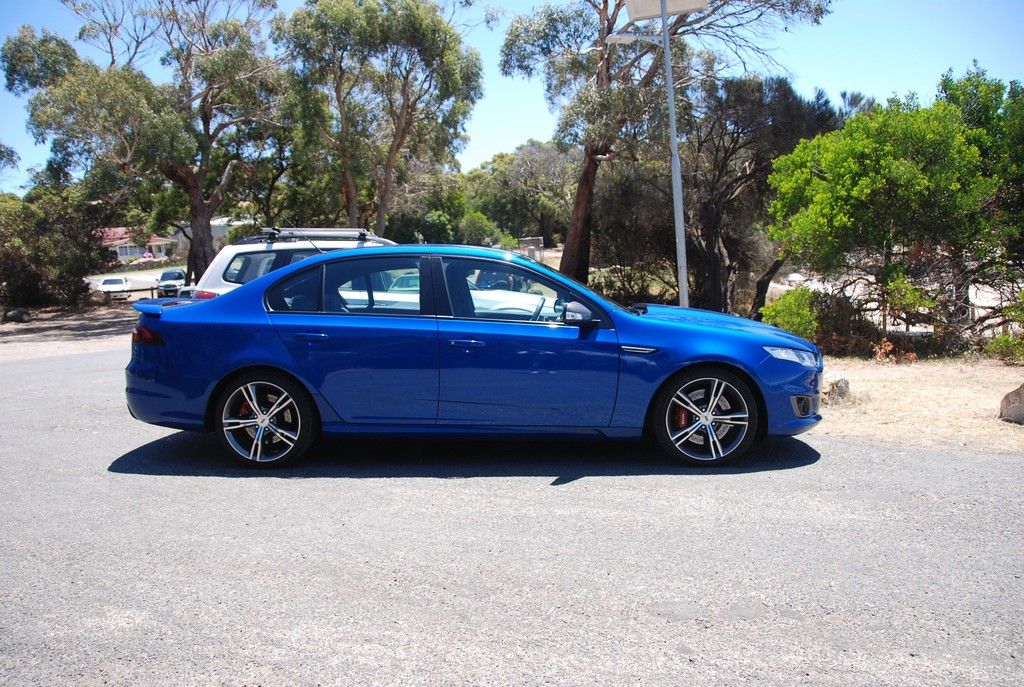 Affordable 4 door performance, especially V8 performance is dying. It's something that never really caught on around the world which makes this country somewhat unique. In the Ford world there is no V8 sedans once Falcon ends leaving the sports car Mustang as the last current product to come with a V8 option.
The package convenience of four doors and a boot with a big V8 is about to die for what many predict will be forever in this price region we as a country have embraced. The family mans sports car is going to be nearly impossible to replicate or replace after Falcon is gone.
This is the very definition of last call. The FG X XR8 is as good as it gets for the diehard Ford consumer.
That it represents the best value a Ford V8 has ever been is a glowing endorsement alone. That it brings with it such sensory indulgence, a car you just want to drive and be rewarded for doing so, a heightened achievement in itself. This is a car of pride, of passion, the exclamation mark on 56 years of heritage in the true tradition of an Australian icon.
This is a car you just want to own.
Ian Parry
A bit about the reviewer.
Ian has grown up with Falcon. Is a member of the local FPV/XR car club, a GT and XR owner as well as a reviewer for Internet based media.
* (source 12.64sec quarter mile at 189km/h in an FPV GT R-Spec manual tested for Wheels magazine October 2012 by Jesse Taylor).
**
http://www.wheelsmag.com.au/news/140...n-on-v8-power/